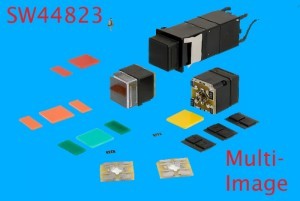 Electro-Mech Components, Inc. has introduced the Series SW44823 Multi-Image Switch Series offering an ideal solution for high-density instrumentation panels and display areas where several switching functions may be required.
Designed in a low-profile, unitized housing, these compact switches feature a choice of either T 1-3/4 (5mm) midget flange based LED or compact PCB with SMT LED's & resistors on board, and may be specified with standard lenses, hidden legend lenses, or with interchangeable lens/filter combinations to allow for optimum display versatility. The multi-image and horizontal or split legend faces save valuable panel space to maximize small area limitations.
The SW44823 Series derives from the Electro-Mech Series 600-800, and units can be specified in single or multiple switch functions from SPST to 6PDT, with momentary or alternate action switching to meet customer requirements. The new switches can be provided with two, four or more LED's for split light segments. Units can be supplied individually or as ganged stations and easily installed with simple snap-in mounting from the front panel. An optional clear or translucent (smoke) grey lens cover is available for protection or to achieve hidden legends.
Switch ratings are 2.0 Amps resistive, 0.5 Amp inductive at 30VDC or 125VAC. Other features of the SW44823 / Series 600-800 include an operating pressure of 2 lbs. (± 1 lb.), plunger travel of 0.187″, weight of less than one ounce, and a rated life of 100,000 minimum actuations. Interconnect with solder lug, PCB terminals, or wire pigtail & connector.