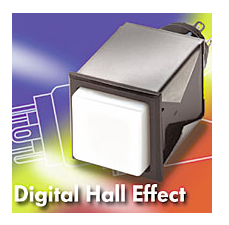 Unitized plastic housing
Long life Hall Effect IC Switch Circuit, SPST
Front panel re-lampable
3/4″ sq. mounting hole
LED or incandescent back lighting
Electro-Mech introduces the SW44158 Hall Effect pushbutton switch. Featuring Hall-effect integrated circuitry, the SW44158 provides reliable performance and long service life in a compact size to meet a wide variety of small form factor requirements. Designed as a SPST or 2PST momentary illuminated switch, the SW44158 is suitable for virtually any high volume front panel switch application including industrial/ avionics displays and controls or instrument panel controls.
Ratings: 3.8vdc min supply voltage; 5mA max supply current
Life (at rated load): 500,000 cycles minimum at rated load
Weight: 3 grams (approx.)
Operating Pressure: 12 oz. + 4 oz.
Plunger Travel: 0.120" (nom.) (0.050 min. travel to make)
Switch Action: momentary
Hardware Supplied: snap in aluminum adapter
Terminals: solder lug terminals
Pushbutton Lens: 5/8 square, any color
Lamp/LED: accommodates one T 1-3/4 mfb lamp or LED
Ordering info: order as drawing SW44158