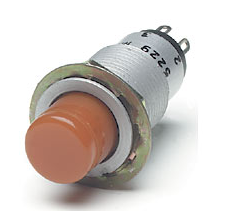 Metal case switch
Circuitry SPST – 2PDT
Short housing for front panel mounting
Momentary switching action only
W modification IAW Mil-S-22885 sealing requirements
LED or incandescent back lighting
The Electro-Mech Series 5100 provides momentary switching in a compact, 1.375″ behind the panel housing, saving up to 25% of usually required space needed by other popular models. These small switches are ideal for keyboard matrix assemblies and with their new recessed lens they offer even greater compactness and beauty.
Positive action, reliable circuitry, and proven low-bounce characteristics are offered in this fully enclosed aluminum housing design, ideal for tight packaging requirements and keyboard assemblies. Standard models are supplied with slide-action silver contact circuitry usually found in larger units. Gold plated contacts can be supplied for dry circuit applications.
Ratings: 30 volts DC or 125 volts AC; 2.0A resistive, 0.5A inductive
Weight: 0.8 oz. (23g) (approx.)
Operating Pressure: 8 oz.+ 4 oz. (228g + 114g)
Plunger Travel: 0.100 nominal (2.54mm)
Actuations: 100,000 minimum
Contacts: Silver plated (gold plating optional)
Terminals: Standard EMC solder lug. Accepts two 20 AWG wires. PC pin terminals also available.
Lens: Accommodates p/n L121, 1/2 dia. lens cap, any EMC color.
Lamp or LED: Accommodates one T 1-3/4 (5mm) midget flange base lamp or LED. Lamp circuit is independent.