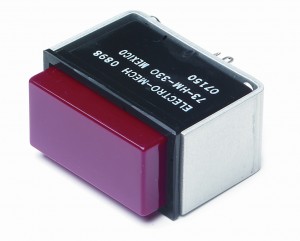 Front panel mount with backup or clip springs
Momentary switching only
Large, legible displays
Accomodates 3/4″ x 1-1/2″ rectangular lens
9 ounces operating pressure
Series 73 switches feature convenient, 1-1/2″ wide x 3/4″ high illuminated pushbuttons for all types of fast read and emergency switching applications. Easy snap-in ("CS") or hardmount ("HM") mounting options are available. All plastic unitized housing provides insulation. Switching circuitry is available from SPST to DPDT plus the lamp circuit.
Ratings: 30 volts DC or 125 volts AC; 2.0A resistive, 0.5A inductive
Weight: 0.8 oz. (22g) (approx.)
Operating Pressure: 9 oz. ± 4 oz. (255g ± 113g)
Plunger Travel: 0.100 approx. (2.5 mm)
Actuations: 100,000 minimum @ 2.0A, 500,000 minimum @ 0.5A
Contacts: Silver plated (gold plating optional)
Terminals: Standard EMC solder lug. Accepts two 20 AWG wires. PC pin terminals also available.
Lens: Accommodates 3/4″x1-1/2″ lens, p/n L67 or L57, any EMC color
Lamp or LED: Accommodates one T 1-3/4 (5mm) midget flange base lamp or LED. Lamp circuit is independent.