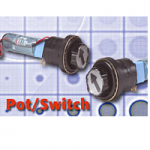 Backlit potentiometer + switch
SPDT Alternate Action switching
3/4″ diameter round button which rotates
7/8″ diameter round mounting hole
Backlit with four discrete green LED
Electro-Mechs SW44175 backlit potentiometer switch offers both rotary and push-on/push-off functionality plus back- lighting for maximum operation control. The SPDT switch enables the user to specify a value so that at the push of a button, the circuit or channel automatically opens at the pre- set level. 3/4 pushbutton lens assembly allows insertion of custom legends. Illumination features four discrete LEDs with built in resistor for illumination at 24vdc.
Ratings: 30vdc or 115vac, 2a resistive, 0.5a inductive
Life (at rated load): 50,000 cycles minimum
Weight: 4 grams (approx.)
Operating Pressure: 2 lbs. + 1 lb.
Plunger Travel: 0.24 approx.
Switch Action: push-on / remain-in / push-off
Hardware Supplied: 7/8 lockwasher and 7/8 plastic slotted nut
Terminals: switch: solder lug terminals; pot.: hooked PC pins
Pushbutton Lens: 3/4 diameter, clear overcap, custom legends avail.
Lamp/LED: built in: four T 1-3/4 green discrete LEDs with
resistor; illuminates at 24vdc
Ordering info: order as part number SW44175