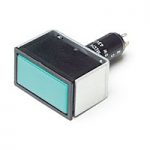 Flush mount to front panel
Extra Long spacer pushes lens/switch assembly deeper behind panel
Tamper proof by user
Uses EMC Mounting Adapters
A complete selection of industry standard, flush mounted, lighted pushbutton switches and indicators is offered by Electro-Mech, for applications requiring accident-proof operating and non-removeable lenses (optional). Popular 1/2″ and 3/4″ square lenses, plus rectangular and round pushbutton lens configurations are available as a standard design on existing snap-in or hard mount switches with circuitry SPST-6PDT.
Mounted flush with the switch housing or mounting panel surface, the lens cannot be removed from the front of the panel, but is removeable by pushing the lens out from behind the panel, an important feature in applications in public areas such as vending machines and video gaming machines. As a safety feature, flush button surface of the lens cannot be accidentally actuated. Solid colors or clear top caps in GE LexanTM polycarbonate may be specified in all standard EMC colors, along with engraved lens legends or mylar film legend inserts.
Applications:
EL flush mount may be utilized on any switch or indicator mounted into a plastic or metal mounting adapter. For more information, see EMC Mounting Adapters.

Ordering Information:
Specify modification code EL as a suffix to the Mounting Adapter / Bezel part number: e.g. 73EL-2654, 65ELCS-350.