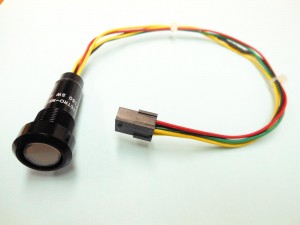 Low profile button for anti-tampering
Bi-Color Red / Green LED illumination
Momentary action with SPST circuit
Pigtail wire harness with Molex connector
Electro-Mech has introduced its SW44834 switch assembly for DVR Signal Switching. End use application is for operator (bus driver) to actuate switch to time stamp an event on full time DVR safety video recording. During replay, operator can quickly locate event mark on playback to study video more closely. EMC switch features SPST circuitry, bi-color Red/Green illumination for status indication, and wire harness pigtail assembly terminating with a Molex Micro-Fit connector.
Ratings: 2A res., 0.5A ind. at 30 VDC
Weight: 0.5 oz. (14 g) (approx.)
Operating Pressure: 20 oz. ± 10 oz.
Switch Action: Momentary
Actuations: 100,000 min. at rated load
Contacts: Silver plated (Gold Plating also available)
Terminals: Solder Lug (2) and LED Pins (3); sealed with epoxy boot and wire leads
LED Illumination: Includes bi-color Red / Green LED for status indication