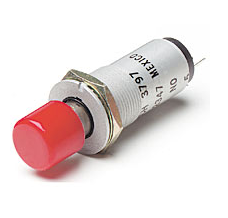 Metal case switch
Circuitry SPST – 2PDT
Shorter housing than Series 2100
Momentary or Alternate Action
W modification IAW Mil-S-22885 sealing requirements
LED or incandescent back lighting
The Electro-Mech Series 6100 Lighted Pushbutton Switch provides momentary or alternate action switching modes in a compact, 1.50 behind the panel housing, saving up to 25% of usually required space needed by other popular models. High density mounting is also capable side by side on 3/4 centers with an optional round slotted nut.
Positive action, reliable circuitry, and proven low-bounce characteristics are offered in this fully enclosed aluminum housing design, ideal for tight packaging requirements and keyboard matrix assemblies. Standard mod- els are supplied with slide-action, silver contact circuitry usually found only in larger units. Gold plated contacts can be specified for dry circuit applications.
Ratings: 30 volts DC or 125 volts AC; 2.0A resistive, 0.5A inductive
Weight: 0.5 oz. (14g) (approx.)
Operating Pressure: 8 oz.+ 4 oz. (228g + 114g) (mom), 24 oz.+ 8 oz. (684g + 228g) (alt)
Plunger Travel: 0.140 + 0.010 (3.56 + 0.25mm)
Actuations: 100,000 minimum
Contacts: Silver plated (gold plating optional)
Terminals: Standard EMC solder lug. Accepts two 20 AWG wires. PC pin terminals also available.
Lens: Accommodates any EMC lens cap, any EMC color.
Lamp or LED: Accommodates one T 1-3/4 (5mm) midget flange base lamp or LED. Lamp circuit is independent.