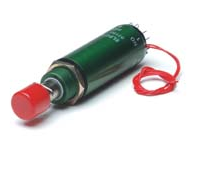 Solenoid hold down switch with Fail-Safe feature
Electrically energized coil
Circuitry 2PST – 6PDT
Sealed metal case switch
This Electro-Mech Series of solenoid release switches provides an excellent choice of conventional alternate action or increasingly popular fail-safe alternate action switching in a variety of styles.
Proven in critical applications such as military and avionics installations, the fail-safe reliability of the Series 3800/3900 offers an ideal switch consideration for emerging industrial controls, process and instrumentation uses in commercial, yet vital areas of dependable solenoid-style switching functions.
Ratings: 30 volts DC or 125 volts AC; 2.0A resistive, 0.5A inductive
Weight: 0.8 oz. (22g) (approx.)
Operating Pressure: 2 lbs.+ 1 lb. (454g + 227g)
Plunger Travel: 0.187 approx. (25.4mm)
Actuations: 100,000 minimum
Contacts: Silver plated (gold plating optional)
Terminals: Standard EMC solder lug. Accepts two 20 AWG wires.
Lens: Accommodates all standard EMC lenses with PD modified plunger (L7xxx).
Lamp or LED: Accommodates one T 1-3/4 (5mm) midget flange base lamp or LED. Lamp circuit is independent.
Coil Rating:
—3600/3700—> *28VDC, 25ohms (will release @ 15vdc)
—3800/3900—> 28VDC, 480ohms (will operate @ 15vdc)
AG Modification:
—3600/3700—> *14VDC,8.5ohms (will release @ 10vdc)
—3800/3900—> 14VDC,125ohms (will operate @ 10vdc)
* 30 seconds maximum duration
Environmental, all units: Waterproof modification is standard on all units. Includes o-ring seal at plunger and epoxy sealed base. Designed and manufactured to meet MIL-PRF-22885 specifications.