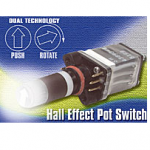 Compact combination switch
SPST, 1 N.O. hall effect IC switch
100K potentiometer value
1/2″ square body size
Front facing PC pins for easy interconnect
The hall-effect switch + potentiometer assembly offers the advantages of both digital and rotary control in a compact size for audio volume preset in avionics cockpit applications. Illumination of the edgelit knob is via an edgelit panel. Front facing PC pins allow unit to be mounted from behind the panel.
Weight: 1.0 ounce maximum
Operating Temperature: -40°C to +95°C
Operating Pressure: 35 + 5 ounces
Switch Travel: 0.060 nominal Actuations: 100,000 minimum
Switch Action: snap-feel momentary
Potentiometer: 100K linear (S) taper (can be specified)
Mechanical Rotation: 295°
IC supply voltage: 3.8vdc minimum
IC supply current: 5mA maximum
Note: Edgelit knob is supplied with this assembly.