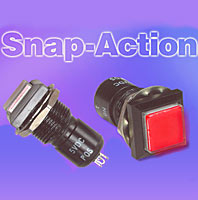 Circuitry SPST 1N.O.
Momentary switch action
Mounts into 5/8″ diameter mounting hole
Built in 5VDC Red LED
Electro-Mech introduces the new miniature SW44095 Snap Action pushbutton switch. The tactile feel illuminated switch features an electrical snap action, offering increased reliability in a wide variety of applications. Designed with a built-in red LED rated at 5vdc and a 0.50″ square lens, the unit's packaging features a unitized housing for access to small area panels.
Ratings: 30vdc or 115vac, 2a resistive, 0.5a inductive
Life (at rated load): 100,000 cycles minimum at rated load
Weight: 3 grams (approx.)
Operating Pressure: 16 oz. + 4 oz.
Plunger Travel: 0.050″ (nom.)
Switch Action: snap feel momentary
Hardware Supplied: hex nut (5/8″-24) and lockwasher
Terminals: solder lug terminals
Pushbutton Lens: 1/2″ square, clear translucent top (L611F)
Lamp/LED: built-in red LED, 5vdc
Ordering info: order as drawing SW44095